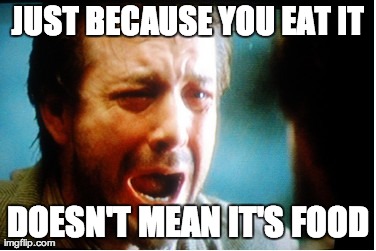 I'm part of a community that embraces people of all shapes and sizes. It's not cool to make media-influenced comments on people's physiques. Gay culture has its bears. And, being plus-size doesn't always translate to being unhealthy.
What I'll focus on, however, is why being healthy should be part of what defines being queer, and especially a queer POC.
I grew up in a family that didn't know any better and ate loads and loads of fast food, sweets, and canned shit. My dad worked as a janitor in a bakery and would often bring home big boxes of cookies and cakes. My childhood was filled with sickness: fainting spells, anemia, fatigue, and what would later be diagnosed as Meniere's Disease, which was accompanied by hearing loss and massive dizzy spells.
Being physically active (riding my bike and skateboard, high school track and field) made my bad nutrition environment tolerable and perhaps prevented me from a worse fate. I was never concerned about weight, and even went on a diet once to gain pounds. Weight wasn't the issue; health became the main concern in a family wracked by sauces and preservatives and Twinkies.
After high school I got out of Dodge, so to speak, and have since made some hardcore changes to my lifestyle and eating habits. I've tried many different healing modes and methodologies: Body Ecology, macrobiotic, seeing a nutritionist, acupuncture, fasting, hypnosis, yoga, Chinese herbs, and Chi Nei Tsang (also known as internal organ massage, my favorite form of self-care)—just to name a few.
These were all choices I made to protect myself from and prevent further illness. This was even before I learned about how the food industry works. When I started reading and hearing about how food is processed, what goes into food products found on supermarket shelves, and the communities that are targeted by dispassionate marketers—I got mad. Sometimes furious. Often overwhelmed. The discourse on body image was, for me, no longer about big versus small. It became about the continued, concerted effort by the food industry to profit from people's ignorance, and to continually fuel that ignorance in ever-changing and shadier ways.
What kind of self-respecting liberal pinko commie mulatto dyke would I be if I didn't fight back?
The LGBT community is at an increased risk of health issues like heart disease, depression, cancer, and diabetes. We're well aware of the violence against our community in the streets; we should be just as adamantly against the slow violence in our kitchens. This goes for poor people, poor people of color, and anyone who's unknowingly feeding the beast of mass consumption.
We should be squarely part of the political movement to protect ourselves, our communities, and communities of color from the food industry. Here's why.
The food industry is killing us and they don't give a fuck. In April of 1999, some of the most powerful food industry moguls (read: rich white men) met in Minneapolis to discuss the worsening problem of obesity in America. Whereas the first VP who spoke rallied his audience of 10 around a theme of responsibility and leadership, the next speaker responded, "Don't talk to me about nutrition. Talk to me about taste, and if this stuff tastes better, don't run around trying to sell stuff that doesn't taste good." This essentially killed further discussion. Nothing changed. The food industry continues to find ways of loosening regulations, falsely labeling its products, or not labeling them with important information (such as whether or not they contain GMOs).
It's not your fault that the "taste" is addictive and dangerous. The moguls know good and well that "taste" will always win out, since "taste" has been constructed in a laboratory to keep you eating—and buying—unhealthy food. More and more studies are exposing the addictive nature of sugar. Salt is so ubiquitous that many people would consider their food too bland without it. These companies are bent on creating more and more heavy users. Guess how much money the processed food industry makes each year? I encourage you to do a bit of research on the largest American food companies and why processed foods are horrible, if you're not already aware. It's like street drugs were legalized all of a sudden and the dealers are going buck wild.
Bad food slows you down, and we need you to be productive! There is a lot of information on how food is related to more serious and life-threatening diseases such as heart disease and cancer. Unhealthy foods have also been linked to many ailments and conditions including chronic fatigue syndrome, fibromyalgia, and even schizophrenia. (There's a great documentary on how Margot Kidder treated her schizophrenia through nutrition.) As a filmmaker with a lot of ambitious goals on her plate, I can't afford to be sick, sluggish, or incapacitated. Think how many more movies, songs, art installations, and performances we can create just by adopting healthy eating habits?
We're gonna have some kick-ass parties in the queer assisted living facility.
I have another goal to live past the age of 90, and with any luck, become a centenarian. Who wants to join me and be in charge of dance night?
Oh, and fitness, too – a few exercise (and food) recommendations

Along with healthy eating comes staying physically fit. I'm lucky to live in the Bay Area and to have friends who empower folks to feel their best, both exercise and foodwise. Here are a few great ones; most are fairly inexpensive.
If you have a little bit of money
If you ain't got no money
There's no reason those with less means can't eat and be healthy. It's just a matter of getting the word out, like People's Grocery is doing. Farmers markets are cheaper than you think, especially if you go to smaller community markets. Many of them accept food stamps. Or, you can rally people together to start your own. If you must go to Safeway, read labels and shop organic. And while you're at it, go to their Facebook page and tell them to label their GMO foods, and sign the Credo-sponsored petition as well. Stay informed with sites like Fooducate and let other people know about them. For getting in shape, economics be damned—run, walk, or crawl if you have to.
The tide is changing
With enough visibility and concerted efforts, things can change. An urban farm is being built in Detroit. Latino communities in the U.S. are fighting diabetes with nutrition. If enough people start making a huge fuss and holding companies accountable on an ongoing basis, we can literally prolong life. See you in the rec room.
Use the hashtag #FoodJustice on Twitter and Facebook when posting healthy recipes, news stories related to healthy eating, or information exposing food industry worst practices.